Rain
How to deal with the number one uninvited wedding guest.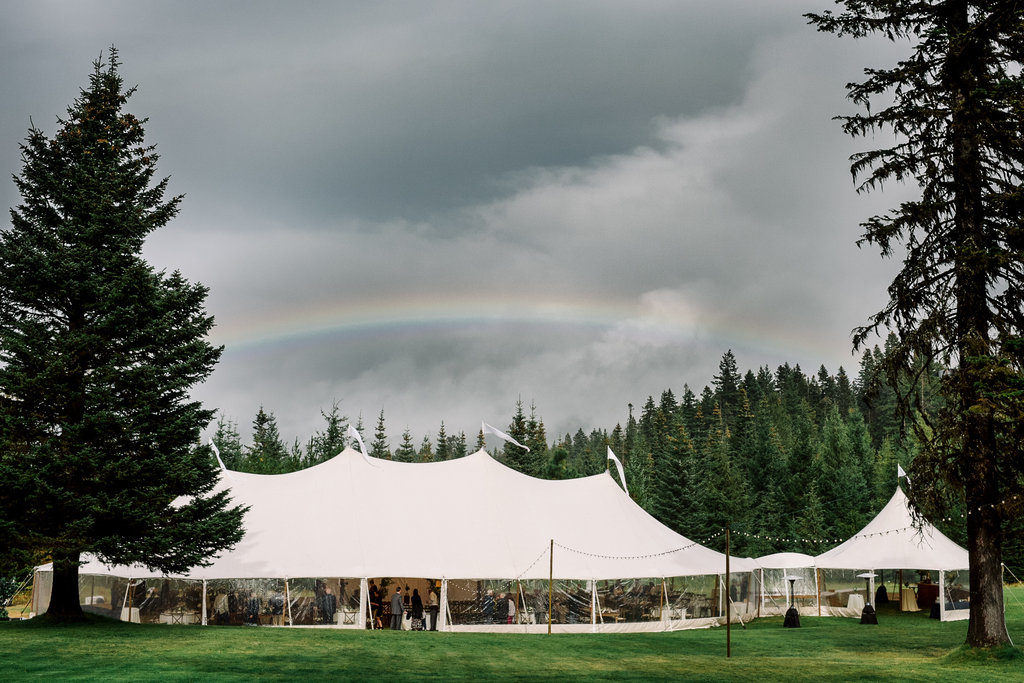 Just about every bride in the Pacific Northwest is leary of one specific uninvited wedding guest – rain. Every detail has been perfectly planned, the forecast has been checked 15 times an hour all week, yet there is still that chance Mother Nature will sneak up and surprise you. As true Oregonians, we've come up with a few tips to ensure those sprinkles don't get you down and keep your day on track.
Be decisive and make a plan. It is so important to plan for all weather circumstances that may occur on your day. This way there are minimal surprises and everyone can sleep at night. If the forecast calls for rain, be prepared! If your venue is outdoors, look into renting a tent for the space. You can rent them in clear or white, with or without siding. Ask your planner or venue coordinator if there are any indoor options onsite or nearby. Often you can make a day-of decision as long as you have both plans dialed in. Be honest with your guests and let them know they may want to bring a rain jacket or boots. Rent umbrellas! You can find clear bubble umbrellas or fun colors and patterns that correlate with your decor. You should have some on hand at least for the wedding party, but it would be generous to keep your guests dry as well.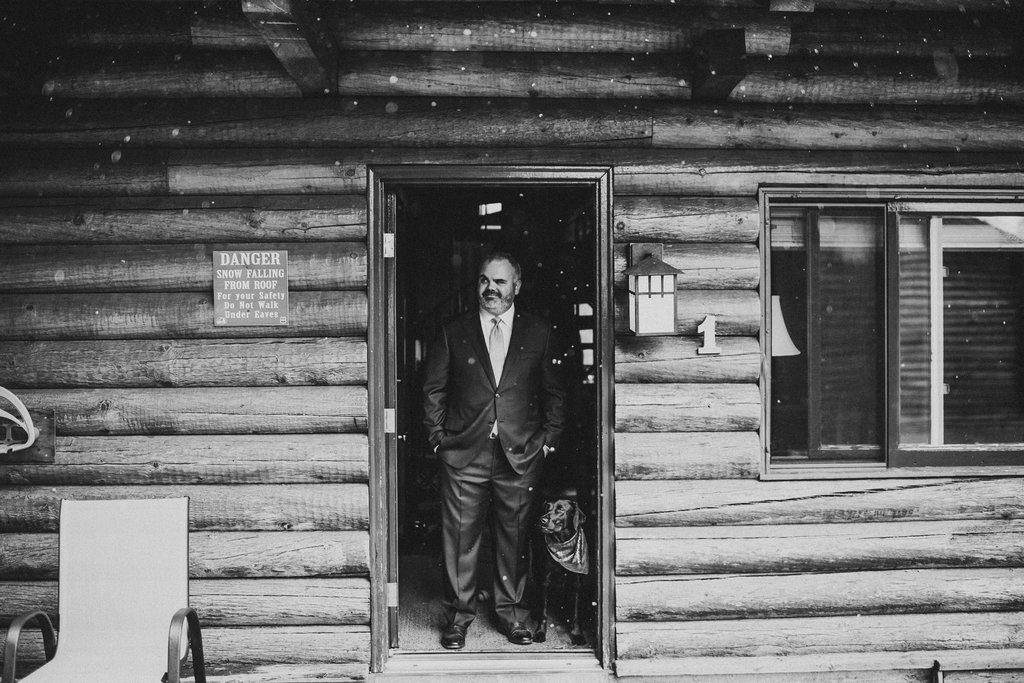 Keep vendors in the loop. If you decide to go with your rain plan, be sure to let all your vendors know as they may need to come prepared. Musicians may require to be under a tent while photographers, videographers and florists may need to bring extra equipment to stay efficient. Also remember to trust your vendors. You hired each of them for a reason: they are professionals! Most vendors are familiar with rain as an obstacle and won't bat an eye at making it work seamlessly.
This is going to be one of the best days of your life, so embrace it! Even the best of planners cannot predict the weather, so be realistic and go with the flow. The attitude of the bride and groom is infectious, and as long as you are taking the weather in stride, your guests will too. Remember the real importance of this event, why you are celebrating and how special it is to have all of your loved ones together. There are bound to be bumps in the road of marriage, so maybe it would even be fitting to have them on your wedding day, too. How you deal with it is always what matters most.
Our client Lissa & Kevin made the most of their rainy day and the photos are proof! Take it from the bride herself.
"I honestly refused to believe that it would dump rain on us in September (and it was 85* and sunny the day before). I only half listened to the back up plans. The Luxe girls are wedding wizards who pulled everything together in a moment's notice when we had to pull the rain plan trigger. But the tent made it all possible. The tent was to be a part of the day regardless, and it totally saved our butts. Zephyr Tents was amazing – based in CA, but they totally made this happen for us. The tent was something that was really important to me. They also provided the dance floor, tables, tent lighting, and bar set up. My words as a bride for rain? Don't be afraid to bust out your Hunter boots (which I totally wore towards the end of the night. My feet were freezing!) One of my most favorite images from the evening was a iPhone snap of me with my dress hiked up so it wasn't dragging in the grass wearing rain boots. It makes me laugh every time!"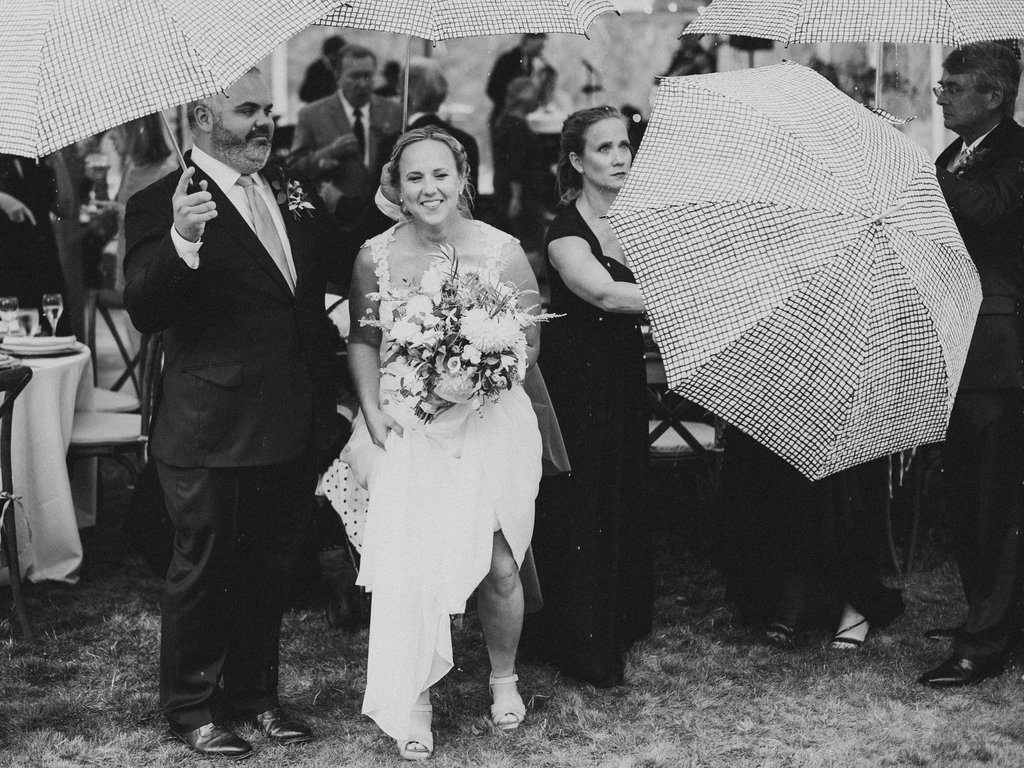 Photographer Jillian Mitchell | Venue & Catering Cooper Spur Mtn Resort | Coordinator Luxe Event Productions | Tent Zephyr Tents | Florist Fiore Floral | DJ Blue Wave Band | Makeup & Hair Caprice Hammon | Cake Fleur Cakes | Officiant A Beautiful Ceremony NW | Rings VK Designs | Rentals Barclay Events