Tyler + Shawn
SILVERTON, OR
AUGUST 27, 2016
With their anniversary around the corner, we thought we'd revisit one of our favorite couples. Tyler and Shawn met back in October 2012. A mutual friend had been eager to introduce them for a few months, but little did they know, Tyler and Shawn had already met prior at a birthday gathering. Shawn described it as his "movie moment" because he's normally quite composed and can navigate himself through any situation, but upon seeing Tyler walk through the door, it seemed as if time had slowed down.
"I was mesmerized," Shawn says. "I felt my neck get hot and my tongue twisting. I couldn't gather my thoughts nor could I muster the words to introduce myself. Fortunately, I could fade into the group I was with."
Only five minutes had passed when he felt the immediate need to get out of the discomfort he experienced. Of all the people in the room that he had met that night, he singled out Tyler to say goodbye to. He approached him, introduced himself as a friend of a friend, and Tyler replied, "I know who you are," with a smitten smile.
With that, Shawn fumbled and excused himself from the party.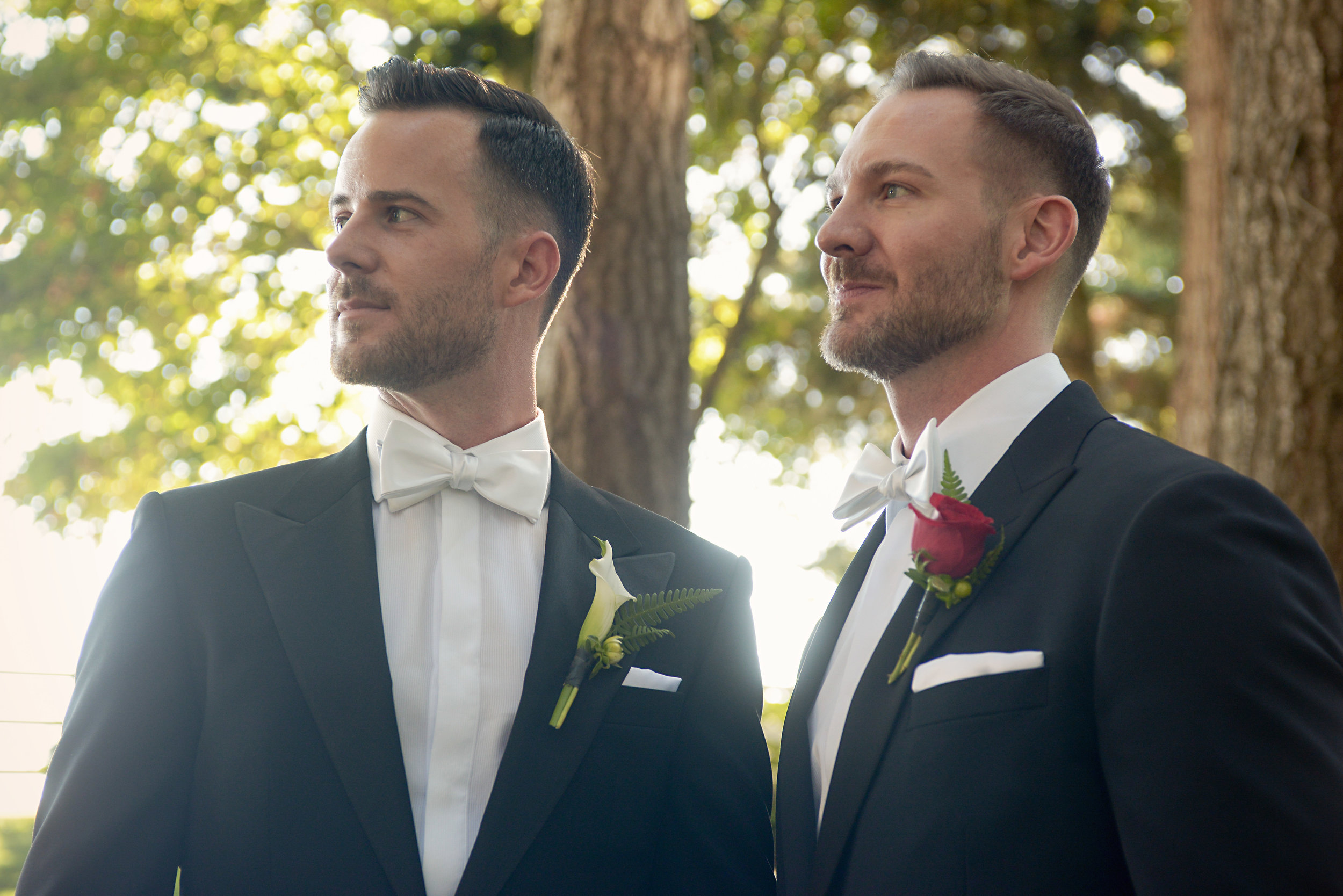 "Thankfully, I was able to recover," Shawn laughs.
A few days later, they started to text and made plans to have dinner. Dinner was nice. A definite air of "first date" and mutual attraction. This was merely a stepping stone in their journey.
They didn't start dating, nor did they become close friends, but they spent the next eight months randomly seeing each other out and about or texting to say "hi" or to inquire about hair products. It wasn't until Shawn was spending his last night of his vacation in New Zealand in May 2013 did he experience that "something" that triggered him to call Tyler and ask him out on a date.
The "something" was a dream he had. He dreamt that him and Tyler were sitting on his grandparents' couch in their living room. Shawn's grandparents at this point were already deceased, but in his dream they were alive and supportive. His "Haw," the nickname his cousin gave their grandma, leaned in and said, "Keep him around, he's a good one."
Shawn woke up and immediately sent a message to Tyler to set up a lunch date when he'd returned. In early June with that lunch date, they started to see each other. They took that time to get to know each other and in September 2013, they decided to commit and see each other exclusively — nearly a full year after meeting.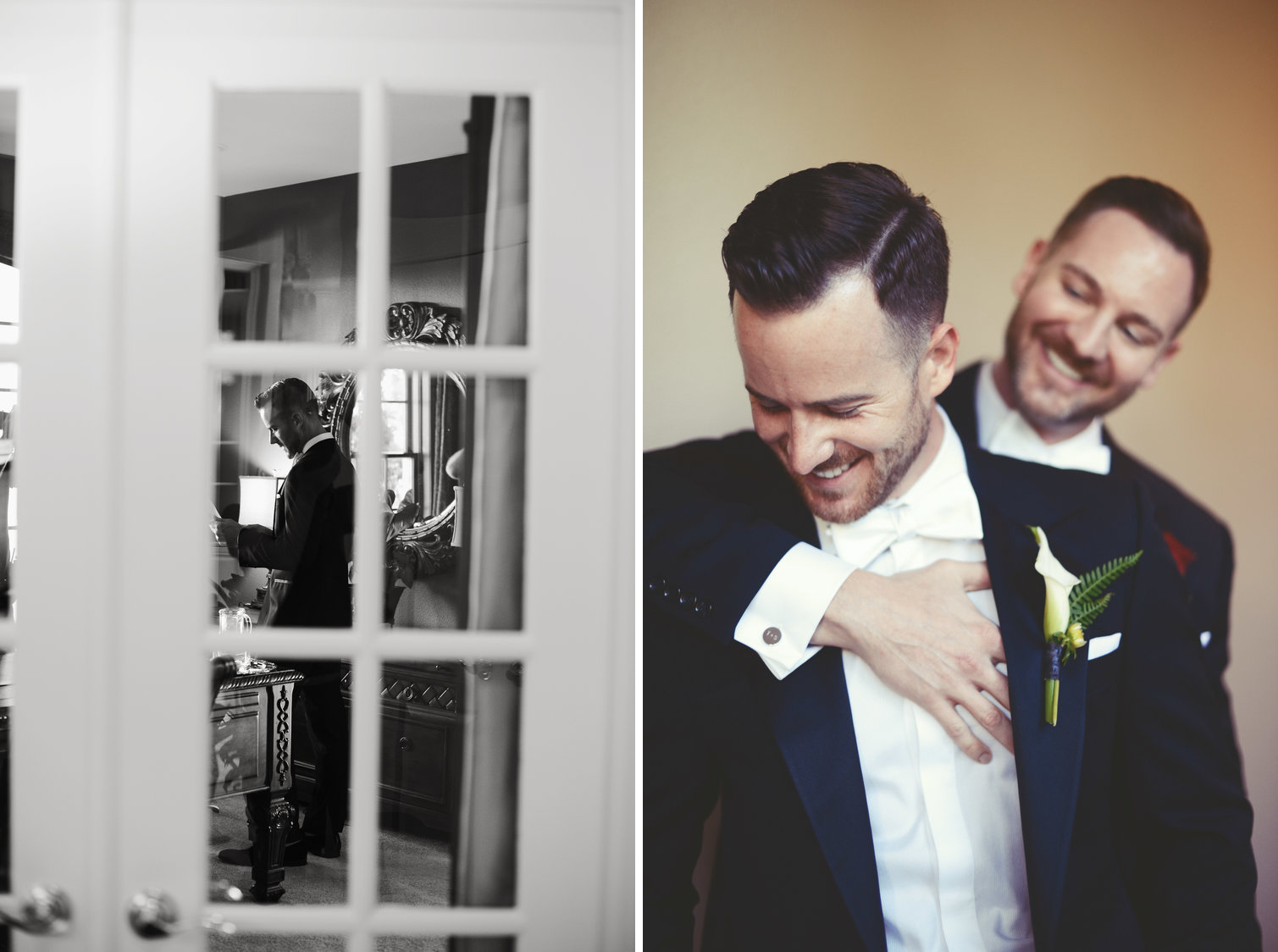 Shawn says they joke about their "countdown" relationship:
– They knew each other for about one year before dating
– Two years after meeting, they moved in together
– They got engaged after three years
– They married after four years
Now it's been five years, and these two still have our hearts. Recently having just moved to Phoenix, AZ, we miss them terribly; but we're so grateful to have been a part of something so immensely special.
We caught up with them recently to talk about their experience with Moving Pictures, and they had some really incredible things to say that we've shared below. So a very happy anniversary to these two with many many many more to come.
Look forward to the full video featuring some of your other favorite couples coming soon.
Photographer: Lyde & Wright Catering: Willaby's Catering DJ: Paradox Productions Cake: Krystina Bielemeier Flowers: Christopher David